Every Day, We Take 24/7-Hour Bookings For Rats, Mice & Rodent Removal Services In Adelaide
Your rodent removal team of professionals are available 24/7 for customer support and quickly responds to all your enquiries. So, if you feel that your property in Adelaide has become a target of rodents, we would appreciate it if you contact our rodent pest removal services. We conduct a thorough inspection of your place to differentiate if it's a rat or mouse that invaded your place. After that, we make a report based on our findings to interpret which removal method would be optimal to implement.
However, if our rat exterminator directly receives a call of request for their services, we readily take the bookings. With this booking of slots in line, we arrange them accordingly and reach the client's place in 1 hour or so. Moreover, be it our rat or a mice exterminator, we reach your place to offer well-timed services. We even identify what type of rat and its colony is disturbing you that quickly as are well-experienced in that aspect.
As mice and rat removal Adelaide problems keep popping up, we also started offering same-day service and emergency service. Some of the common or standardised methods we adopt during rodent removal are baiting, rodenticides, trapping, etc. We strategically execute these methods in those places where rats and mice frequently visit. This way, we always succeed in catching these unwanted guests from your place and leaving them at faraway places.
Look At The Rodents Types You Find In Adelaide Along With Their Behaviour
Adelaide is a place for clever rodents that are found nowhere in the world. Some of those are the Spinifex hopping mouse, Golden-backed tree rat, Water-rat, Central rock rat, Black-footed tree rat and others. The race of rats in Adelaide began 5 million years ago and with continual evolution, rodents also changed their behaviour. As they take shelter in gutters and around garbage bins, they tend to carry numerous diseases that spread to humans as illnesses. Male mice don't tolerate unfamiliar mice within their range. And female mice are famous for establishing their territories. Most times, rodents never come into light as they are nocturnal mammals and prefer to stay in dark and hidden places.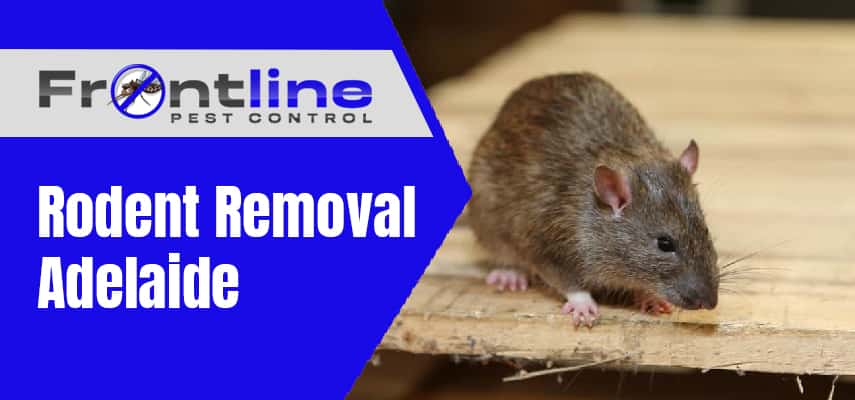 Diseases Rodent Spread To Households In Adelaide
Rodents are highly recognised for their notorious behaviour, aggressive nature and spread of various diseases to the people and animals around them. Rats and mice spread their diseases in 2 ways, that is, directly and indirectly. Direct spread of rodent diseases happens through the consumption of contaminated food, touching rodents and then touching the mouth, etc. The indirect spread of rodent diseases happens when vectors like fleas, mites, ticks and mosquitoes come into the picture. Sometimes, people also get rodent diseases when an intermediate host like fleas is accidentally consumed. Some of the direct and indirect rodent diseases are here.
Leptospirosis: It is caused by bacteria present in rodent bodies and widely affects both human and wild animal populations. Notably, leptospirosis in a person shows no symptoms until an individual is seriously ill.
Plague: Generally, plague doesn't directly spread from rodents but fleas act as vectors to transmit the disease. A bite from a flea that feeds on a dead or ill rodent comes into a household, then it spreads plague with bites.
Tularemia: Rodents cause tularemia in people as well as wild animals like rabbits and squirrels around them. When a person comes in contact with a dead or ill rodent, he or she gets infected with tularemia.
Hantavirus: Droppings of rodents are the main cause of the rapid spread of hantavirus from rodents to humans. So, if you find rodent droppings in your attic, garden or any other area of your home, do not get into its contact.
Deal Rodent Infestations At Your Home With The Following Checklist
For pests like rodents that do not respect your privacy, it is always better to maintain a rodent removal Adelaide checklist. With resistant behaviour like rodents, they damage your property and health if you put up with them and take no necessary action. If it is a rodent infestation you are fighting against, then you need to follow precautions both indoors and outdoors on a property. This way you can permanently reduce the increase of rodent population on your premise. Here are some checklist points to look out for to reduce rodent infestations:
Don't just throw anything in storerooms or attic and mind the seasonal organisation of the items
Repair your gutter system whenever there are any problems
Never leave behind food crumbs on kitchen countertops and clean them as soon as possible
If you set up rodent monitors, do not forget to regularly check them
Check to close garage doors to not leave any gaps for rodent entry
Take a close look at the vent cover to clean it regularly.
Exterminators Available To Provide A Different Kind Of Rodent Removal Services
Rat Pest Removal Service In Adelaide
Our speciality is in offering rat removal Adelaide service because we have 4-step programs, standard rat removal processes and many more. We are not a rat exterminator Adelaide team that treats rats like other pests or insects but has our special ways. If any Adelaide local comes to us for monthly, quarterly or annual rat removal and removal services, we cater to them immediately. Adelaide faces problems with rats because of bumper crop food and prolonged rains. As these problems cannot be faced alone, we dispatch our local rat controllers to give you a helping hand. Thus, contact us right away.
Mice Pest Removal Service In Adelaide
With continuous changes in climate in Adelaide because of various reasons, the population of mice is also increasing rapidly. And this is when urgent action against mice and their infestation is required with our mice removal Adelaide services. However, if you neglect this immediate action, then mice start their breeding season and increase their population count. But you have a way to stop this never-ending process of mice right away and solve your mice issues by taking our mice exterminator Adelaide team's help. You also have to know that we have more than 1 way to act against mice infestations across your place.
Safe Rat Removal Services In Adelaide
Did you already avail of rat removal Adelaide services but still feel unsafe? Then contact our experts for effective services. Our professional rat removalists excel in permanently solving your problems with rat problems and giving you a safer environment. To assure your safety from rats, we make your Adelaide proper rat-proof by offering timely service. We have physical, biological and other methods like habitat modification to remove rats safely. With our assistance in the removal of Adelaide rats, your place becomes free of rats within a week or less than that. Therefore, contact us for a safe rat removal service!
Mouse Removal Services In Adelaide
Our solutions for mouse removal Adelaide services remove mice once and for all with written estimates to be provided. So, schedule us this instant via our 24/7 customer support for same-day or emergency service and make sure to regain your property's safety. We have an Adelaide-wide network and can dispatch regional experts for every city and suburb present in Adelaide. When you come in contact with our mice removal Adelaide team for an obligation-free quote, we offer you that as well. Also, if it's more than one mouse removal service you want from us, we provide you with them.
How Did We Become A Different Company From Others In The Industry?
It has been because of the way we deal with client rodent problems that we became a different company in Adelaide. We started our reasons here.
The rodent removal Adelaide programs we practise always gives desirable results
Tools and equipment we use for rats and mice removal Adelaide services are up-to-date and advanced
With excellent efficiency and experience, the people of Adelaide believe in our skills for mice removal Adelaide service
Comprehensive service prices are planned to meet client concerns
For every residential and commercial property in Adelaide, our local team of controllers is dispatched
Exclusively for appointments, we are available even on weeks offs.
We Are Famous For our Work And Became A Leading Company In Adelaide
Frontline Pest Control never acts on the spur of the moment if we deal with clients from Adelaide-wide. We care to offer assistance from a top-notch and experienced rodent removal Adelaide team for our client bookings. By availing of our rat pest control Adelaide services, every area like the roof, ceiling, kitchen, lawn and basement becomes free of rats. We make your work a lot easier by offering a follow-up. Thus, there is no need to clean after our rodent control treatment.
As we keep our service charges affordable and show our skills during the work, we became famous in Adelaide. Also, you will be amazed to know that we work 24/7/365 days and take exclusive bookings for a pre-purchase inspection and rodent removal service. For tricky projects like Rodent Removal Adelaide services, we carry fully-equipped equipment, a licence to do the work and other credentials. Most importantly, we focus on humane rodent removal and hence dial 0488 851 508.
Here's A View About Our Adelaide-Wide Teamwork In Rodent Removal Process
Do you want to know our exclusive rodent removal process? Take a look then.
Inspection For Rodents- To give your place the right rodent removal Adelaide treatment, we particularly inspect the area. By doing this, we get detailed information on the type of rodent entry, the extent of rodent infestation and other details.
Treatment Plan- On finding rodents and identifying them during an inspection, our next step is to do a treatment plan. During the treatment plan itself, we give insights on,
The time it takes to complete the procedure
Cost aspects
Tools and solutions we use, etc.
Implementing Of Treatment- On informing everything and taking your permission to proceed with the rodent removal procedure, we implement the treatment.
Ongoing Prevention- As a part of Rodent Removal Adelaide treatment, we provide you with suggestions on ongoing prevention tips. These tips help you to not let rodents enter your property.
Clients From Adelaide-Wide Can Avail of Any Kind of Listed Rodent Removal Services
Brown Rat Control And Removal Adelaide
As brown rats are good swimmers, you find their presence even in drainages and this in turn causes severe drainage damage. In fact, because of brown rats' activity in sewer lines, excessive borrows will be formed and blockages start happening. If you find food items like cheese, scrambled eggs or raw carrots, now is your time to confirm it as brown rats. But you have a chance to redeem this situation by getting in touch with our brown rat exterminator Adelaide team. More than this, you can book us for same-day service or emergency service as well for quick assistance. Also, if you want to control and remove broken rat babies, contact us.
Black Rat Control And Removal Adelaide
To humans around them, black rats cause nasty diseases like listeria, toxoplasma gondii, salmonellosis and hantavirus. Moreover, black rats also cause structural damage to your Adelaide property, especially a commercial premise. Sometimes, even after following preventive measures for black rat control, you still find their activity in your place. Therefore, do not go for any more preventive measures to take our help in black rat removal services. We even provide pre-purchase inspection and control services for black rats as they prefer living in vacant places too. The quicker you get rid of them, the safer you are.
Norway Rat Control And Removal Adelaide Wide
Did you know that Norway rats are the largest species of rats you find in Adelaide? Yes, indeed they are. The common places Norway rats reside in are eastern Adelaide and most of the Southern coastal regions. Norway rats also invade agricultural areas in search of food and water, so if you notice them book our Norway Rodent Removal Adelaide services. We are awake from dawn till dusk to assist you in taking one service or multiple service bookings. As we have special talent and knowledge in Norway rat control and removal, we solve your problems with ease. Our affordable services also make you stress-free!
Roof Rat Control And Removal Adelaide
Roof rats cause a lot of damage to your basement, garden, kitchen, bathroom, attic, garage and other areas of your property. Because roof rats are bigger than standard ones and hence leave behind a huge pile of faeces. So, if you become a victim of roof rats, the professionals like our roof rat exterminator Adelaide team can help you out. On booking us, an expert comes to your house to implement the right roof rat treatment to permanently get rid of them. While inspecting the area property, we check for infestation extent too. Ping us today for more details
FAQ's on Rodent Removal Adelaide
How do I get rid of rats in Adelaide?
Depending upon the region in Adelaide, different types of rats enter your property. For example, rats prefer humid environments and other hot climates. Thus, there is no standard method for you to follow and get rid of rats in Adelaide. However, professionals like us are knowledgeable about this, so hire us.
How much does it cost to have someone get rid of mice?
Sometimes, mice exterminators have to trim the bushes to find mice, other times, determining the mice type and extent of infestation level matters. Hence, the cost aspects for mice removal services vary accordingly.
How do I control a rodent infestation?
You can control rodent infestation on your own by using rodent natural repellents, frequently inspecting sewer lines, closing garbage bins and others. You can also use traps and bait available in the market.
How much does it cost to get rid of rats on the roof?
The costs you can expect to get rid of rats on the roof are affordable but this depends upon factors like:
1. Place of infestation
2. Number of roof rat burrows
3. The population of roof rats &
4. Damages roof rats cause to your roof.
How do professionals get rid of mice?
Based on the degree of mice infestation they find from inspection, professionals plan for the required treatment and implement it. In addition to this, some professionals also do follow-up treatment, documentation and post-inspection.