Professional Wasp Removal and Eradication In Perth
Wasp Eradication Perth – Are you noticing wasps roaming inside and around your premises? There must be a wasp nest anywhere around your premises. Well, you can give a shot at a DIY wasp nest elimination program, but it can endanger your health as well as your well-being.
Wasps can attack you with painful stings leading to fever, intolerable pain, inflammation, etc. In some cases wasp sting becomes fatal. So, instead of handling the matter on your own, you better seek assistance from Professional Wasp Eradication in Perth experts before it's too late.
At Frontline Pest Control, we team up with industry-experts wasp removal experts and help eradicate the wasp nest from your home/office safely throughout Perth. No matter how big the wasp nest is or how hard to reach the nest location is, our professionals can help you get rid of the pesky pests quickly and safely.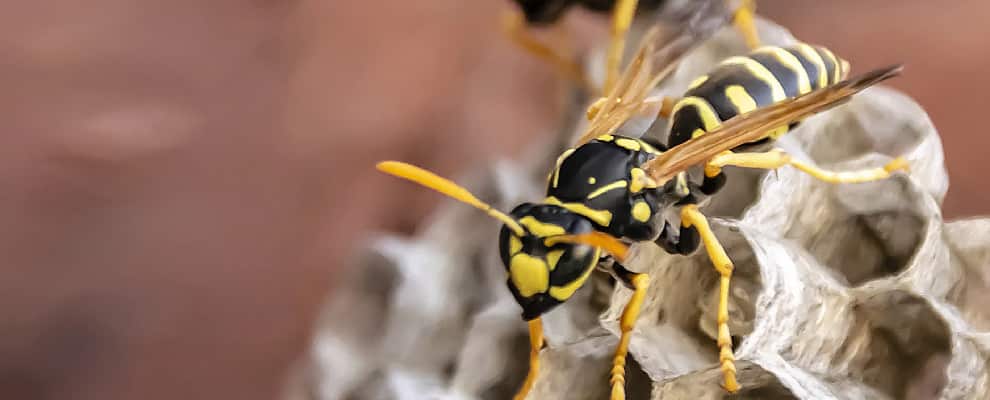 Know About Wasps
Wasps are insect social species of the family Vespidae. They are common in most parts of the world. They can be harmful to humans and animals, but they are useful in farming areas. Many people hate wasps because they're mean, but they're important to us in many ways.
Wasps are highly social insects that can be found worldwide. They can be found in the wilderness, grasslands, forests and deserts. Also, you can find them in residential and commercial properties. Each type of wasp has a different adaptation to its environment. Some types of wasps are black and yellow and look like a bunch of bullets. Others are white with brown stripes and look like a bag of sugar. There are also orange hornets with black abdomens, black paper wasps and yellow-brown tree wasps. All these different types of wasps live in the wilderness and are dangerous to humans.
Our Wasp Nest Removal Services Are Available For All
Private Homes, Residential Societies
Commercial Premises
Eateries, Restaurants, Hotels
Shops, Malls
Hospitals, Clinics, Healthcare Centre's
Manufacturing Industries
Schools, All-Academic Institutions, and Colleges
Is Removing A Wasp Nest Dangerous?
Wasps are undoubtedly a beneficial pest that preys on other insects that are considered harmful to your garden. But that does not make them your friend. Wasp stings do not only lead to fever, chances of infection, and pain but also cause threatening anaphylactic shock to allergy-prone people. So, handling the wasp nest removal without proper skills and tools can prove to be dangerous.
Alongside, if the wasp nest is located at a higher place or any other hard-to-reach area, you can end up causing self-injuries. In short, removing a wasp nest with DIY tactics is indeed unsafe. But if you do the same thing with the help of professionals, the risk lessens. If you still want to perform the task on your own, make sure to do it after dark. Also, make sure you have a well-planned escape route to protect yourself from the wasps.
How We Proceed The Work Of Wasp And Nest Removal
Netting, Shock Track, Solar Panel Wasp Exclusion, Gutter Wasp Exclusion, Entrapment of all wasps, and mesh for wasps are examples of some of the services offered here. Our company is fully insured & has all necessary permits, including high-risk access and operating wasp eradication and removal services at heights.
Wasp Inspection Service
There can be regular wasp visitors or there can be a wasp infestation, to detect this, our experts offer the best inspection services.
Wasp Control Treatments
Wasp control is very important because these insects can be extremely dangerous to your well-being. We want you to live in an environment that is healthy and safe, and our wasp control treatments do the same.
Wasp Prevention
Our experts not only remove wasps but also prevent them from re-entering your property sharing different preventative methods.
Easy Wasp Prevention Tips You Can Follow
Install a fence around the perimeter of your yard to keep wasps and pests away.
Place tall shrubs or trees along the boundaries of your property, so they can't get close to the house.
Plant wasp deterrents in your garden, place bright lights near the entrance of your home, or loud noises in strategic locations to scare off wasps.
One of the most effective ways to keep wasps out of your home this winter is to use wasp traps.
Wasps are attracted to sugar and will fly into any area where they find it. Wasps also infect many things, so make sure you get rid of any open food sources.
Another effective way to keep wasps out is to use doors and windows that are properly closed. Wasps are able to gain entry through gaps as small as a quarter inch, so make sure your doors and windows are tightly sealed. You can also use door and window screens that help to keep critters out.
Costs Associated With Wasp Removal In Perth
Call us today for a free quote if you want to know the costs associated with wasp removal in Perth, and let us show you why we are the best choice for wasp removal and other pest control services in Perth! Wasp removal costs are dependent on the following factors.
The size of the nest
Wasp species
The location of the nest
The number of wasps
Inspection cost
Our pest management experts will see your problem and provide you with estimated wasp removal costs.
Why Should You Opt For Services From Frontline Pest Control?
Frontline Pest Control is not an ordinary company that you can find anywhere in Perth, we are available especially for solving wasp problems.
The products we use are toxin-free and human, plant, and pet-friendly.
Our Wasp & wasp nest removal technique is eco-safe and meets the standards set by the state.
During the wasp removal process, we try our best to keep your daily household chores uninterrupted.
Our wasp removal treatment is completely odour-free.
We offer a free inspection before and after the removal treatment.
Our Wasp Removal Melbourne professionals offer a free onsite written bid.
At the end of the wasp removal treatment, we offer a free follow-up and treatment report.
We ensure to offer a foolproof wasp removal solution with long-term results.
With us, you can expect to get Wasp Removal Melbourne Certificates for Council Purposes.
Do Not Delay: Wasps Are Dangerous
Looking for experts for professional wasp eradication in Perth? Ring us up for a free quote or booking.
FAQ's (Frequently Asked Question)
How many years of experience do you have in wasp removal?
We have a total experience in the industry of more than 25 years. We started with one expert and a van full of pesticides and are now fully equipped with vehicles that service Perth-wide locations.
Are we available locally for wasp removal services in Perth?
We are pleased and thankful for the chances provided by local organizations and individuals for wasp removal in Perth and its suburbs. In exchange, we pledge to continue providing excellent service to all of our core clients.
Do we provide a warranty on our wasp removal services?
What sets us apart is that we offer a warranty on all of our services. When you employ us, you can rest assured that we will look after your wasp removal needs perfectly.